Gaya
Safretti flueless fireplaces have a unique design and a high-quality finish. A combination of exclusive design and the warmth of fire. The flueless fireplaces are easy to attach to the wall or to place in open spaces.
The open fire will be created by using a special liquid (bio-ethanol). A flue is not necessary. Due to the high-quality materials used, these fireplaces are suitable for use both inside and outside on the patio or balcony. Safretti stands for Stylish, Modern, Trustworthy and Design.
The Gaya, designed by Roderick Vos, has a unique design. It is like a painting on the wall, which at first notice, does not appear as a fireplace. Even when the Gaya is not being used, it is obviously a nice looking object for the interior...

The alienated image of fire, captured in a framed black painting, makes this design of the Gaya fantastic. It is a design that has been reduced to pure 'simplicity'.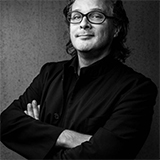 Design: Roderick Vos
Roderick Vos (Groningen, The Netherlands 5 Febr. '65) started his study of Industrial Design at the currently known "Design Academy" in Eindhoven The Netherlands in 1984. At '87 he moves to Japan for 8 months, where he finds an excellent tutor in GK Industrial Associates/Tokyo, founded by Kenji Ekuan.
Partly Asian himself, this particular period gave evidently a larger impact for his personal interest in Asian Culture and it's products.
In 1990 he graduates at the Design Academy in Eindhoven (division men & living), and starts together with his partner Claire Vos, an industrial designer too, his design office 'Studio Roderick Vos' , based in s'Hertogenbosch, the Netherlands.

Web-Site from Designer: www.roderickvos.com
Designer Roderick Vos