Joy
Casamania is an Italian based furniture design and manufacturing company founded in 1984. At the foundation of each collection are dynamic, innovative, and high quality design solutions.

Casamania represents a contemporary and forward aesthetic that seamlessly translates to high end residential, hospitality, or commercial design projects, with collections covering a wide range of pieces from modular systems and furniture, to lighting and accessories.
Joy - a chair crafted and sculpted around the figure of a child, completing the family begun last year with the Him and Her chairs. Produced from mass-dyed rotation molded polyethylene. Available in various colours and suitable for outdoor use.
This product comes in different colors, please specify with your order.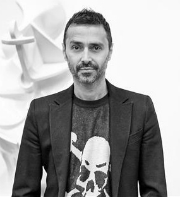 Design: Fabio Novembre
Since 1966, I've responded to those who call me Fabio Novembre.
Since 1992, I've responded to those who also call me "architect".
I cut out spaces in the vacuum by blowing air bubbles, and I make gifts of sharpened pins so as to insure I never put on airs.
My lungs are imbued with the scent of places that I've breathed, and when I hyperventilate it's only so I can remain in apnea for awhile.
As though I were pollen, I let myself go with the wind, convinced I'm able to seduce everything that surrounds me.

I want to breathe till I choke.
I want to love till I die.

Web-Site from Designer: www.novembre.it
Designer Fabio Novembre