Stereo
Casamania is an Italian based furniture design and manufacturing company founded in 1984. At the foundation of each collection are dynamic, innovative, and high quality design solutions.

Casamania represents a contemporary and forward aesthetic that seamlessly translates to high end residential, hospitality, or commercial design projects, with collections covering a wide range of pieces from modular systems and furniture, to lighting and accessories.
Stereo - a complete seating system, available in a range of structures with a choice of painted pre-galvanized or chromed: stackable 4 leg or sleigh base, swivel chair with gas lift on 4 spoke base, or 5 spoke wheeled base. All seats have the choice of optional armrests. An open, versatile design with multiple possibilities for use in different context ,
Stereo offers a wide range of colours, materials and functions.The polypropylene seat is glossy on the rear and opaque in front, and can be either partially or completely upholstered. The 4 leg and sleigh base are available either chromed or painted pre-galvanized metal to match the seat, whilst the spoke bases and armrests are dye-cast aluminium.
This product comes in different sizes, finishes, colors and covers, please specify with your order.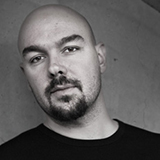 Design: Luca Nichetto
Luca Nichetto was born in Venice in 1976, where he studied at the Art Institute. Afterwards he attended the IUAV, the University Institute of Architecture of Venice, where he graduated in Industrial Design.He has received many international prizes, among which the Gran Design Award 2008, the Chicago Atheneum Museum of Architecture Good Design Award 2008, the IF Product Design Award 2008 and the Elle Decoration International Design Awards 2009 (EDIDA) as Designer of the Year in the Young Designer Talent section. Today, Luca Nichetto works for various international companies, such as, Bosa, Casamania, Emmegi, Established & Sons, Foscarini, Fratelli Guzzini, Gallotti & Radice, Italesse, Kristalia, Moroso, Offecct Refin, Salviati, Skitsch, Tacchini, Venini.

Web-Site from Designer: www.lucanichetto.com
Designer Luca Nichetto
Customer Ratings