Sunny
Area Declic is a brand of ARRMET, a historic Friulian factory active since the '60s in the chair-manufacturing cluster in Manzano (Udine). It specialized, in particular, in the production of chairs for schools and community use.
In time, the company decided to manufacture mass-produced chairs, as a mark of fond utopia for functionality and design: to produce high quality objects, even when dealing with everyday products of large consumption.
Area Declic was born from the necessity to differentiate the ARRMET brand to orientate itself better in the marketplace. Under this brand the company offers designer chairs, stools, tables and furnishings, distinguished by the coupling of metal and plastic and by marked functionality.
Sunny - the sunny and easygoing air that is encapsulated in its name does not betray the delivery of functionality: it is a comfortable and practical small armchair.
The bodywork in polypropylene is available in many colours, and is mounted on a chromed or painted steel four-legs frame, so it's stackable and suitable for bars and public places. Available also in monochromatic version.
This product comes in different finishes and colors, please specify with your order.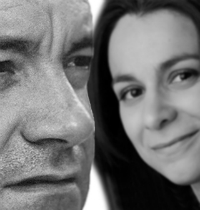 Design: 2BD Design
It is the trade name for the work of Mara Picco and Roberto Foschia. The former was born in Luxemburg in 1975, graduated in Industrial Design at the European Design Institute in Milan and completed his training with a Masters in Marketing and Communications at the Communications Academy in Milan. The latter was born in Friuli in 1948. Designer in the Research and Design Centre of SELECO/Zanussi, he has had his own studio since 1986. In 1973 he obtained the "Sehen und Horen - Design und Kommunikation" prize for the Q9 television". Two different and complementary professionals who have successfully worked together since 2004, concerned with Design, Interiors and Graphics.
Web-Site from Designer: www.2bd.it
Designer 2BD Design
Customer Ratings